Collection:

CLOSET FRANGRANCE
Our fragrance for the wardrobe is something very special! We offer cashmere bags filled with fresh Swiss stone pine shavings from the Austrian and South Tyrolean Alps. Cashmere pine bags spread a pleasant scent and protect your clothes from bugs. Our cashmere Swiss stone pine bags also contribute visually to a beautiful design in the wardrobe, between the laundry and other items of clothing.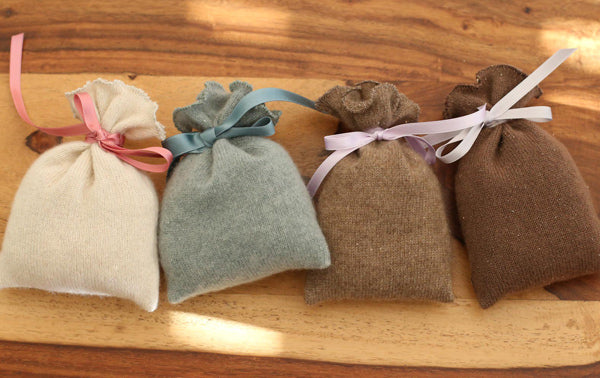 FAQs
How long does the wardrobe scent last?
In our fragrance for the wardrobe, fresh pine shavings are processed. These shavings have a long-lasting scent. After some time, the cashmere bag should be shaken a little and placed outside in the humid air overnight. In this way, the Swiss stone pine begins to smell again and exudes its unique scent.
What does the wardrobe scent smell like?
The wardrobe fragrance exudes a scent of the essential oils of Swiss pine shavings. It smells fresh and pleasantly delicate, neutral and natural. The pine shavings positively change the room climate without disturbing it with a prominent scent.
Can I wash the cashmere wardrobe scent?
In general, the cashmere bag can also be washed in the washing machine without being filled. However, the Swiss stone pine shavings are filled directly into it, which allows the optimal diffusion of the room scent. However, the Swiss stone pine shavings must not be washed. We recommend placing the wardrobe scent in the moist, fresh air and shaking it out from time to time.