Collection:

MAJESTIC FILATURES
Majestic Filatures from Paris stands for a fashionable T-shirt collection that has more to offer than "just" a shirt. Majestic has been producing its T-shirts in workshops in Europe since 1989. Linen, cotton, viscose, cashmere, silk and modal are used. The basic shirts are available in different blends of fabrics and inspire with their quality and wearing comfort. Let yourself be inspired by the variety of colours, cuts and fabrics in the designer collections from Majestic Filatures.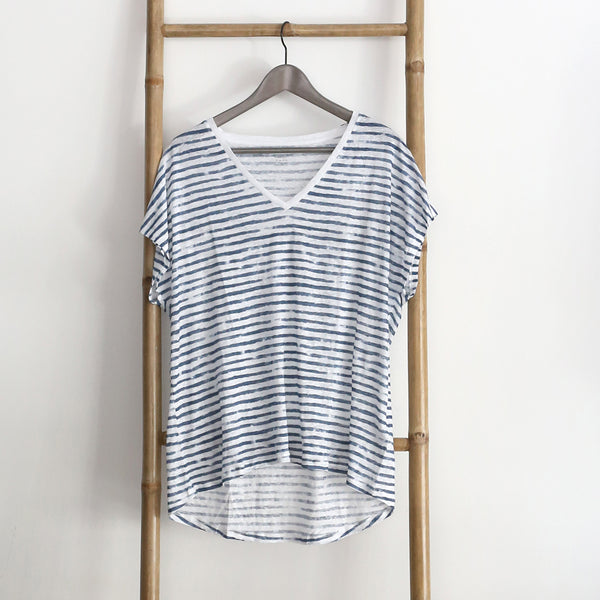 FAQs
Are the thin Majestic shirts very sensitive?
We have been working with Majestic Filatures for many years and are delighted with the high quality of their jersey fabrics. The gauzy linen tops and shirts for summer can be washed in the washing machine as normal. However, we recommend that you set the spin speed at max. 400 revolutions, as heavy spinning could damage the fabrics.
What do I do if the shirt I ordered doesn't fit me?
You can return free of charge from Germany, Austria and Switzerland. You can see from our product descriptions how a shirt or jumper will look and thus choose the right size directly when you buy it. If you have any questions, please call us at our shop in Munich-Schwabing: 089-347417. We are always happy to have personal contact with you and are happy to advise you.
Why do shirts always have holes in the front?
The most stressed area is at the front of the stomach, right at the fastening of the trousers. This is always the biggest challenge. Majestice Filatures' designer collections stand for high quality and expert workmanship. Here, these unloved little holes very rarely appear.